Couple bickering or domestic violence?
In an egalitarian relationship, each partner will have a certain freedom, such as going out with their own friends, having their own activities, their own values.
The couple will make the main decisions by mutual agreement, for example, where to go on vacation, choose the apartment and the neighborhood where they want to live…
In an egalitarian relationship, there will be no will to control. The couple may have disagreements on a multitude of topics: a project, a way to spend money or share tasks, etc., which will possibly cause tensions, conflicts and / or bickering. If there is a debate on a subject of discord, even stormy, each member of the couple will keep their freedom to express themselves, to defend their point of view (avoiding humiliating personal attacks), to argue and react as they wish, without fear of consequences.
On the other hand, in a relationship where domestic violence takes hold, the egalitarian relationship will be broken. The aggressor will seize power at the expense of his spouse. Under the pretext that he is jealous or for any other reason, he will denigrate her, threaten her, forbid her, explicitly or indirectly, to engage in certain activities or to see the people she considers, her family, her friends. Because she is afraid of him, the victim will prefer to submit and will no longer dare to react, nor express herself freely. He is the one who holds the power in the couple.
Understanding the Difference Between Couple Bickering and Domestic Violence
To differentiate domestic violence from couple bickering, here are the 4 criteria to analyze; Power over the other, intent, persistence as well as impacts on the victim.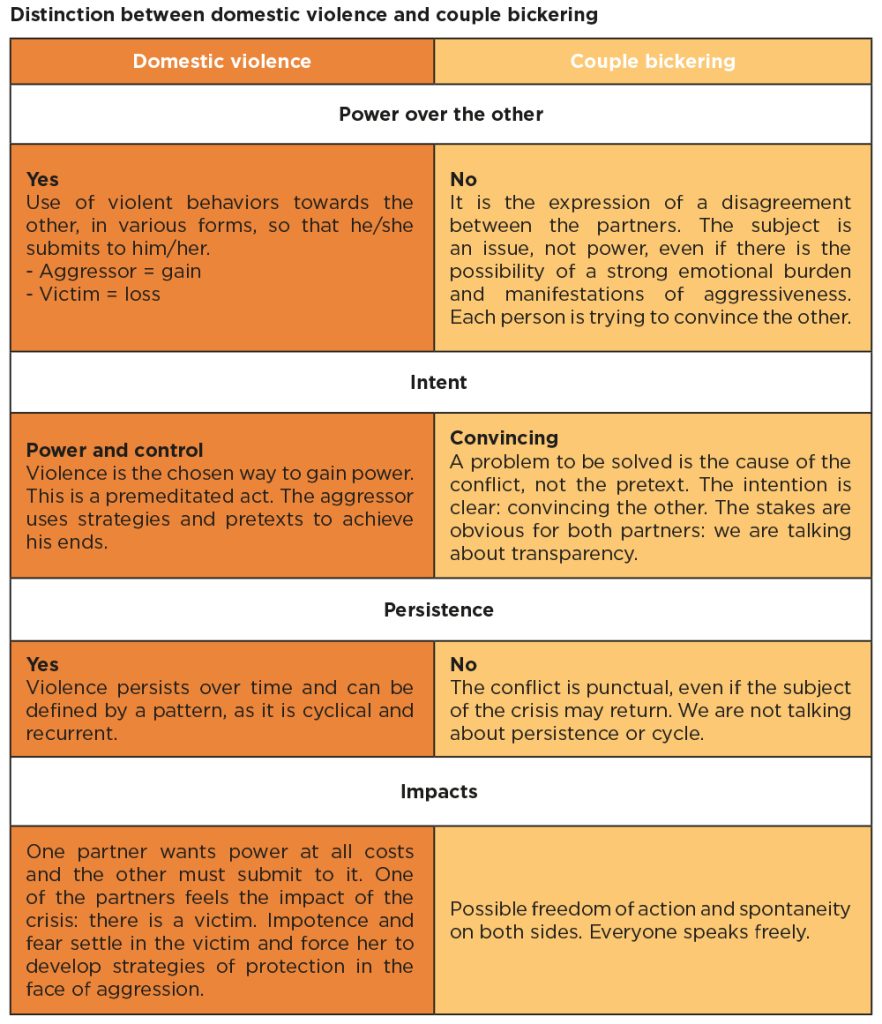 From the document: "What if it was more than bickering? Markers to better differentiate couple bickering from domestic violence. Grouping of shelters for women who are victims of domestic violence.